Canal Crossings Condominiums - Hancock, Michigan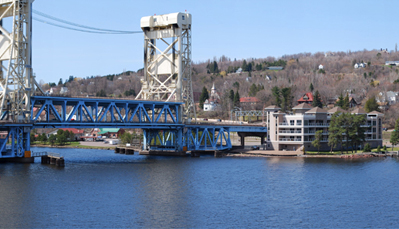 Summary
Location:  Hancock, Michigan
Size:  54,560 sq.ft.
Completion: July 2008 
Project Description:
Built next to the Portage Lift Bridge and along Portage Canal, Canal Crossings is a four story building consisting of 21 condominiums. From the very foundation, this building presented a unique challenge. Located on a site consisting of organic material and stamp sand, the design team chose to use a poured caisson system to provide a firm building foundation. Over 40 caissons were drilled down to bedrock and then filled with concrete. The building's exterior walls are load bearing masonry and each floor is built using pre-cast concrete planks with a poured topping. The building's veneer is cultured stone, masonry and EIFS. In addition to the private balconies that each condo has, the rooftop deck provides residents with another space to spend time outside and enjoy the views along the canal. The ballasted, selfdraining artificial turf system with paver walking paths simulate a natural feeling while being located on a rooftop.